Lee M. Drescher developed the Treasure Time concept from a deep understanding of childhood learning processes gained from more than a decade of teaching and working with young children.
Online Story Hours
Treasure Time has currently produced several online story hours.
In order to space out activities for teachers and families, online stories are in units, with 3-4 books, each read by itself and then a group of activities to accompany the theme.
Treasure Time programs adhere to STEAM PLUS, and promote reading through the arts and sciences. They are especially geared to ages three to five, and are good for learning to read, learning English and family viewing. Each program is about a picture book, which is read by the host and then interpreted with participatory activities, songs and games.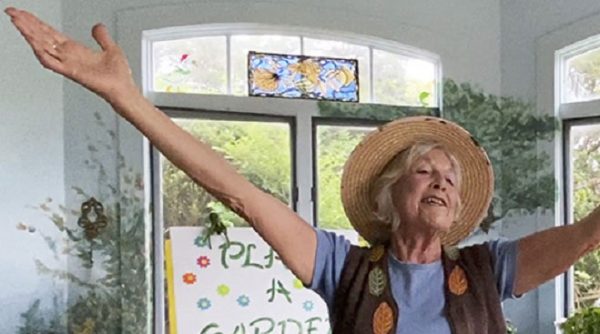 Be a tall tree and spread your branches, while singing, "Tree oh tree, oh mighty tree, standing so tall, so proud, so free. Reaching your lacey arms into the sky, watching the world go by."
Online Story Hours Summer 2021
Mrs. Treasure will be doing weekly story hours on Facebook, You Tube and her website.
Online stories are in units, with 3-4 books, each read by itself and then a group of activities to accompany the theme.
MAY

Books:
Up in the Garden and Down in the Dirt, by Kate Messner, illustrated by Christopher Neal
How Groundhog's Garden Grew, by Lynne Cherry
The Sleepy Songbird, by Suzanne Barton
Have You Heard the Nesting Bird?, by Rita Gary, illustrated by Kenard Pak
Activities:
Sing a birdsong skit with Arianna
Learn about how birds build their nests
Make a bird and a nest with babies out of paper plates
JUNE

Books:
Duck on a Tractor, by David Shannon
Beautiful Don, by Kathyrn May Howard Whitaker
Click, Clack Moo, by Doreen Cronin & Betsy Lewin
Spots, Feathers & Curly Tails, by Nancy Tafuri
Activities:
Identify farm animals and the sounds they make
Sing farm animal songs with Arianna
JULY

Books:
Catching the Sun, by Coleen M Paratore, illustrated by Peter Catalonotto
The impossible Patriotism Project, by Linda Skeers, pictures by Ard Hoyt
The Story of America's Birthday, by Patricia Pingry, illustrated by Stacey Venturi-Pickett – Talk about Falmouth and Katharine Lee Bates
Hats Off for the Fourth of July, by Harriet Ziefert, illustrated by Gustaf Mille
Activities:
Sing America the Beautiful
Make a drum and have a parade
AUGUST

Books:
Dory Story, by Jerry Palotta, illustrated by David Biedrzyck
The Rainbow Fish, by Marcus Pfister
Curious George Rides a Bike, by H. A. Rey
The Leaping Grasshopper, by Jeanne Archambault & Dwight Smith
Activities:
Make a Curious George boat out of newspaper
Sing Baby Beluga & the Whale Song
SEPTEMBER

Books:
Yes We Can!, by Sam Mc Bratney, illustrated by Charles Fuge
A Friend is Someone Who…, by Marilee Joy Mayfield, illustrated by Tanya Maneki
I Can Yell Louder,  by Jennifer Gaither & CJ Centeno
Fiona Flamingo, by Rachael Urritia Chu, illustrated by Kate Jeffery – Sing Even Though We're Different and the Friend Song
Activities:
Activities & Songs will be included
Online Story Hours Winter/Spring 2021
JANUARY

Books:
First Snow, by Kim Lewis – talk about sheep & sing Mary Had A Little Lamb
White Snow, Bright Snow, by Alvin Tresselt, illustrated by Roger Duvoisin
Snow Falls, by Kate Gardner, illustrated by Brandon James Scott
The Three Snow Bears, by Jan Brett- build an igloo out of blocks
Activities:
Talk about snowflakes
Cut a snowflake out of paper
Sing the snowflake song and make an angel in the snow (pretend)
Cut paper angels
FEBRUARY

Books:
Stranger in the Woods, by Carl R. Sams II & Jean Stoick
Over and Under the Snow, by Kate Messner with art by Christopher Silas Neil
Stopping by Woods on a Snowy Evening, by Robert Frost, illustrated by Susan Jeffers – Talk about poetry & encourage kids to write their own poems or draw a picture.
Crocodiles Need kisses Too, by Rebecca Colby, illustrated by Penelope Dullaghan
Activities:
Make a pretend snowman (creative movement)
Make a cottonball snowman & an indoor snowman
Sing and dance to Frosty the Snowman
MARCH

Books:
The Gingerbread Man,  by Gail Yerril – Sing the Gingerbread Man Song, Make cookies w/Arianna
Cozy, by Jan Brett
The Song of Spring, by Hendrik Jonas
St. Patrick's Day, by Anne Rockwell, illu by Lizzy Rockwell – Grab an instrument and march to McNamara's Band
In-person Story Hours
Due to COVID-19 , we have currently suspended in-person Story Hours.
Mrs. Treasure comes in costume to read a picture book, sing related songs on the guitar and do creative movement. She incorporates math and science activities by counting and comparing objects or using animal puppets to describe characteristics. Kids sing and dance to original and familiar songs which relate to the topic.
Music is a crucial component to Treasure Time programs. Lee Drescher has written multiple songs to accompany her shows, and traditional games and songs are used as well. Every story session begins with the Treasure Song, which is a self affirmation, and ends with participatory games and creative movement. Instruments are also used to keep rhythm to songs and march around the classroom. Music helps to develop brain cells in children, and enhances learning.
Story Hours: for Schools, Libraries, Pre-School, Day Care and Birthday Parties
$200 plus transportation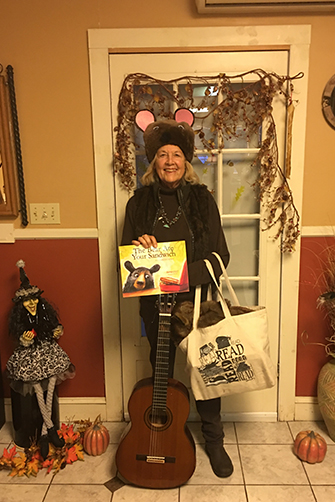 Mrs. Treasure comes in costume and reads a selected picture book. She sings songs with a guitar and encourages audience participation in games and hands-on art projects. Usually these fun and entertaining programs conclude with dancing.
A Kwanza Story – Seven Spools of Thread Background provided about Kwanza. Talk about siblings and how sometimes they fight with each other. Sing De Colores and other songs about family and relationships. Play a game. Do a weaving project.
Snowflakes – Snowflake Bentley Talk about snowflakes and cameras and being "different." Demonstrate a camera and cut out snowflakes. Sing and dance to the snowflake song.
Socks – Lizette's Green Sock sing sock songs adapted from nursery rhymes and make a sock puppet. Find rhyming words and dance with it in a " sock rock,"
Eggs – Duck and Goose Sing duck and goose songs, talk about eggs and decorate one.
Gardening – Diary of a Worm Talk about planting things in the spring. Sing gardening songs and play some farmer games. Everyone plants a seed to take home.
Birds – Read No Roses for Harry Talk about birds, nests and bird sounds. Sing bird songs. Play in and out my window and do a craft.
Anger – When Sophie Gets Really Angry Talk about anger and other feelings. Act out feelings, draw a picture using colors to depict feelings, and sing the Mad Song.
Fourth of July Parade – Yankee Doodle and Hats Off for the Fourth of July Make instruments and march and sing to Yankee Doodle and other marching songs.
Ocean – Dory Story about fish and a row boat. Sing and dance to sea songs and make a "Curious George" boat.
Fall and Leaves – Leaf Man Talk about Fall and what happens to the trees. Sing the Leaf Song, and the Tree Song, and pantomime them. Show some different kinds of leaves and trace and cut one out of construction paper. Pretend that you are a leaf and dance to music.
Halloween – Big Pumpkin Talk about Halloween and scary things. Sing some Halloween songs and do finger plays. Make a ghost.
Holiday Program about Giving – The Elves and The Shoemaker Talk about giving and being thankful. During the holiday time of year, we give gifts to others. We can give a gift by "doing for others." Have kids think of what they can do for Mom or Dad. Sing The Giving Song and other traditional Holiday Songs. Make a card with a promise of something you will do for someone you care about.
Holiday Program About Friends and Family – Mort and Croc Talk about special friends and family members at this time of year, and how someone can be lonely. Sing the Friend Song, other Holiday songs, and make a card to remember someone special.
Other possible books and topics include Pirates, King Midas, Babysitters, or a subject or book of your choice.
Staff Training
$500
Share materials and activities for presenting story hours with participants, including sheet music for original songs from The Treasure Time Songbook.
STEAM PLUS
STEAM PLUS Programs by Treasure Time promote literacy through the arts and sciences to children aged 2-8, along with lessons of life. These plays and stories expose children to text and enrich children's lives, as they acquaint them with a myriad of topics which delve into Science, Technology, Engineering and Math, STEAM; while PLUS is for issues which kids confront during childhood. Treasure Time programs can help children to become informed and catch up after being isolated for a year due to the pandemic or they can just help them to acquire reading skills and learn new facts.