Lee M. Drescher developed the Treasure Time concept from a deep understanding of childhood learning processes gained from more than a decade of teaching and working with young children.
Online Story Hours
Treasure Time has currently produced several online story hours.
In order to space out activities for teachers and families, online stories are in units, with 3-4 books, each read by itself and then a group of activities to accompany the theme.
Treasure Time programs adhere to STEAM PLUS, and promote reading through the arts and sciences. They are especially geared to ages three to five, and are good for learning to read, learning English and family viewing. Each program is about a picture book, which is read by the host and then interpreted with participatory activities, songs and games.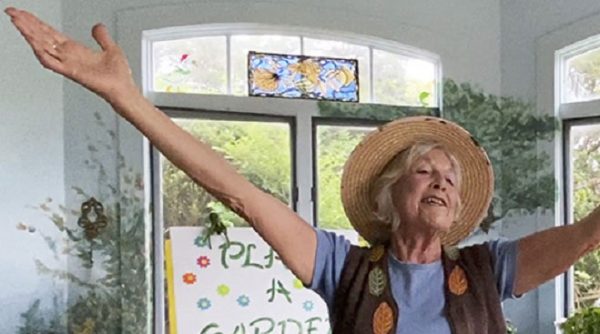 Be a tall tree and spread your branches, while singing, "Tree oh tree, oh mighty tree, standing so tall, so proud, so free. Reaching your lacey arms into the sky, watching the world go by."
JANUARY

Books:
First Snow, by Kim Lewis – talk about sheep & sing Mary Had A Little Lamb
White Snow, Bright Snow, by Alvin Tresselt, illustrated by Roger Duvoisin
Snow Falls, by Kate Gardner, illustrated by Brandon James Scott
The Three Snow Bears, by Jan Brett- build an igloo out of blocks
Activities:
Talk about snowflakes
Cut a snowflake out of paper
Sing the snowflake song and make an angel in the snow (pretend)
Cut paper angels
FEBRUARY

Books:
Stranger in the Woods, by Carl R. Sams II & Jean Stoick
Over and Under the Snow, by Kate Messner with art by Christopher Silas Neil
Stopping by Woods on a Snowy Evening, by Robert Frost, illustrated by Susan Jeffers – Talk about poetry & encourage kids to write their own poems or draw a picture.
Crocodiles Need kisses Too, by Rebecca Colby, illustrated by Penelope Dullaghan
Activities:
Make a pretend snowman (creative movement)
Make a cottonball snowman & an indoor snowman
Sing and dance to Frosty the Snowman
MARCH

Books:
The Gingerbread Man,  by Gail Yerril – Sing the Gingerbread Man Song, Make cookies w/Arianna
Cozy, by Jan Brett
The Song of Spring, by Hendrik Jonas
St. Patrick's Day, by Anne Rockwell, illu by Lizzy Rockwell – Grab an instrument and march to McNamara's Band
APRIL – MAY
Duck and Egg
Books:
Duck and Goose, by Tad Hill (12:20)
Swim, Duck, Swim, by Susan Lurie & photos by Murray Head (5:53)
The Runaway Egg, by Katy Hudson, w/egg song (5:10)
Activities: (14:37)
Count plastic eggs & identify colors
Sing favorite duck songs & use hand motions; walk like a duck and dance
Five Little Ducks Went Out One Day
Little White Duck
MAY – JUNE
Planting a Garden
Books:
Jack's Garden, by Henry Cole (9:11)
My Garden, by Kevin Henkes (5:42)
In a Garden, by Tim McCanna, illustrated by Aimee Sicuro (8:17)
Activities (22:01):
Demonstrate planting a garden
Sing & move to garden songs:
Inch by Inch
Oats, Peas, Beans and Barley Grow, a planting song & game
Tree, Oh Tree, Oh Mighty Tree: be a seed and grow into a big tree.
JULY – AUGUST
Fish Stories
Books:
The Three Little Fishies and the Big, Bad Shark, by Ken Geist, illustrated by Julia Gorton, w/Shark Song (7:04)
The Hermit Crab, by Carter Goodrich, w/ song (14:32)
The Fish Who Cried Wolf, by Julia Donaldson, illustrated by Axel Scheffler (10:10)
Activities (17:10):
Going to the beach and what to take
Make a fishing game
Sing & dance to ocean songs:
Three Little Fishies
Baby Beluga
Rolling Waves
SEPTEMBER
Back to School
Books:
Amber on the Mountain, by Tony Johnston, paintings by Robert Duncan (18:06)
The Noisy Classroom, by Angela Shante, illustrated by Alison Hawkins (12:06)
Llama, Llama, Misses Mama, by Anna Dewdney
Jumpstart Read for the Record, October 29, 2020
Evelyn Del Ray Is Moving Away, by Meg Medina, illustrated by Sonia Sanchez, w/friend song (12:45)
OCTOBER
Falling into Fall
Books:
The Apple Orchard Riddle, by Margaret McNamara, illustrated by G Brian Karas, w/demonstration
Leaf Man, by Louis Elhert
The Fierce, Yellow Pumpkin, by Margaret Wise Brown, pictures by Richard Egielski
Activities:
Talk about Fall, leaves turning colors & harvesting pumpkins & apples
The Falling Down Song
Apple & Pumpkin Picking Song
Halloween Surprise
NOVEMBER
Getting Ready for Winter
Books:
In the middle of Fall, by Kevin Henkes, illustrated by Laura Dronzek
In November, by Cynthia Rylant, illustrated by Jill Kastner
Time to Sleep, by Denise Fleming. Song- The Bear Went over the Mountain
Giving Thanks, by Chief Jake Swamp, illustrated by Erwin Printup, Jr.
Activities:
Show woodland animal puppets and tell what each one eats and how he/she gets ready for Winter.
Sing & move to seasonal songs:
Winter is A Comin' – be the cold wind.
A Hunting We Will Go
Thank You World
DECEMBER
A time to celebrate
Books:
Waiting for Winter, by Sebastian Meschenmoser
First Snow in the Woods, by Carl R, Sams II & Jean Stoick
The Christmas Owl, by Angela Muse, illustrated by Helen H. Wu
Melrose and Croc, A Christmas to Remember, by Emma Chichester Clark
Activities:
Talk about holidays and different ways to celebrate at the turn of the year
Sing and move to seasonal songs:
The Twelve Days of Christmas, sing & read
Giving Song
Rudolph the Red Nosed Reindeer
O Hanukkah
STEAM PLUS
STEAM PLUS Programs by Treasure Time promote literacy through the arts and sciences to children aged 2-8, along with lessons of life. These plays and stories expose children to text and enrich children's lives, as they acquaint them with a myriad of topics which delve into Science, Technology, Engineering and Math, STEAM; while PLUS is for issues which kids confront during childhood. Treasure Time programs can help children to become informed and catch up after being isolated for a year due to the pandemic or they can just help them to acquire reading skills and learn new facts.